Bug Clean and Wash
This product removes dried on bug remains with minimal scrubbing. Simply spray on and wipe with a micro fiber towel. Product contains no ammonia, solvents or acids and will not damage vehicle surfaces. This product has been tested and is safe for light lenses.
Key Points
Ready to use formula, simply spray on and wipe off, No water needed, Non-fuming, ammonia free formula, Requires minimal scrubbing, pH neutral, For bugs that have been on for an extended period of time use our Telescoping Wash Brush..
Product Usage Industries
Public Safety (Fire/Rescue, EMS, Law Enforcement, DNR), Utility Companies, Recreational Vehicles, Trucking, Towing, Horse Trailers, Public Works, Motorcycles, Military, Septic Haulers, Buses and Companies with Fleet Vehicles.
Bug Clean is available in the following sizes:
• 32oz Bottle $10.75
• 4x32oz Bottle Case $35.25
• 1 Gallon $23.95
• 4X1 Gallon Case $79.50
• 5 Gallon Pail $85.50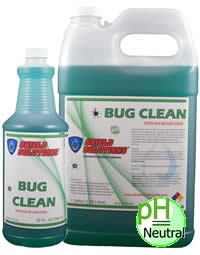 Product Sheets
Product Photos and Videos