General Purpose and Floor Cleaner
This is a pH neutral multi-purpose/multi-surface cleaner with excellent cleaning properties for use on floors, counters, and walls or any hard surface. Product can be diluted for delicate jobs and contains no d-limonene. This cleaner can be applied in a mop bucket or automatic floor scrubbers.
Key Points
Concentrated formula makes product economical, Works well in any water temperature, Rinses clean without leaving a film or residue.
Product Usage Industries
Public Safety (Fire/Rescue, EMS, Law Enforcement, DNR), Utility Companies, Manufacturing, Industry, Trucking, Towing, Public Works, and Military.
Floor Clean is available in the following sizes:
• 1 Gallon $23.95
• 4X1 Gallon Case $79.50
• 5 Gallon Pail $86.50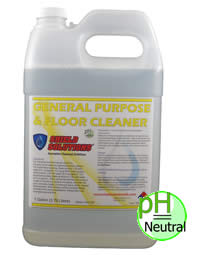 Product Sheets