Hose Cleaning Solution
This pH neutral wash solution was developed for the safe cleaning of all firefighting hose.
Key Points
Contains NO Solvents, pH neutral (6.5-7.5), Will not leave a residue, Easy to use highly concentrated formula, Safe for use on Rubber and Fabric Hose, Highly effective cleaner, Low Foam, For best performance apply with Hydro Foam Sprayer, Can be used in hose washers, pressure washers and bucket washing.
Product Usage Industries
Public Safety (Fire/Rescue, EMS, Law Enforcement, DNR), Utility Companies, Recreational Vehicles, Trucking, Towing, Horse Trailers, Public Works, Military, and Septic Haulers.
Hose Clean is available in the following sizes:
• 1 Gallon $20.75
• 4X1 Gallon Case $75.75
• 5 Gallon Pail $82.75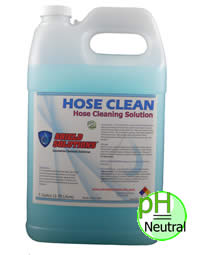 Product Sheets