Pre-Spotter Gear Cleaner
Gear Clean Pre-Spotter is for use on heavily soiled areas prior to washing or for spot cleaning. This is our full concentration GEAR CLEAN product in a convenient one-quart spray bottle. Meets recommendations set forth by NFPA 1851, 2014 edition related to detergents used for the cleaning of turnout gear.
Product Usage Industries
Public Safety (Fire/Rescue, EMS, Law Enforcement, DNR), Military, Commercial and Tow companies.
Gear Clean is available in the following sizes:
• 32oz Bottle $10.95
• 4x32oz Bottle Case $35.75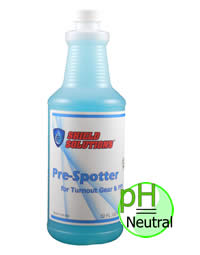 Product Sheets