Rinse Clean / Gross Decontamination Rinse
This environmentally friendly and pH neutral rinse solution has been purposely developed aid in the decontamination of PPE including structural, wildland and dive gear. Why not leave the contaminates where they were encountered? This rinse allows the user to rinse on scene and avoid bringing the contaminates to the apparatus and back to the station. Thereby reducing exposure to harmful elements.
Key Points
All ingredients are safe for Direct Release to the environment, pH neutral (6.5-7.5), Will not leave a residue, highly Concentrated formula, cost effective, Will not damage equipment or fabrics, Just spray on and rinsed.
Product Usage Industries
Public Safety (Fire/Rescue, EMS, Law Enforcement, DNR), and Military.
Rinse Clean is available in the following sizes:
• 32oz Bottle $10.95
• 4x32oz Bottle Case $35.75
• 1 Gallon $26.25
• 4X1 Gallon Case $87.50
• 5 Gallon Pail $98.50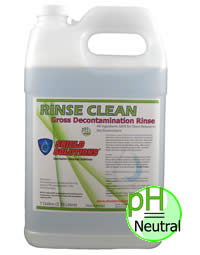 Product Sheets
Product Photos and Videos