Vinyl Cleaner
This cleaner provides a way to clean vinyl rubber and plastic without leaving a slippery surface or residue.
Key Points
Will not leave residue, Multi-surface cleaner, Non-fuming, ammonia free.
Product Usage Industries
Public Safety (Fire/Rescue, EMS, Law Enforcement, DNR), Utility Companies, Recreational Vehicles, Trucking, Towing, Horse Trailers, Public Works, Military, and Septic Haulers.
Vinyl Cleaner is available in the following sizes:
• 32oz Bottle $10.95
• 4x32oz Bottle Case $35.75
• 1 Gallon $26.25
• 4X1 Gallon Case $87.50
• 5 Gallon Pail $98.50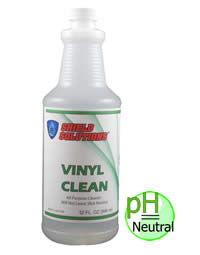 Product Sheets