Vehicle Premium Cleaning Kit
The premium cleaning kit includes all that you need to take care of your vehicle cleaning needs.
Key Points
Dries 95% spot free without towel drying, Neutral pH formula, safe for vehicle surfaces, Highly concentrated formula is very cost effective, Easy to use: Simply Foam, Brush and Rinse, Will not harm Polycarbonate Lenses, TESTED SAFE.
Product Usage Industries
Public Safety (Fire/Rescue, EMS, Law Enforcement, DNR), Utility Companies, Recreational Vehicles, Trucking, Towing, Horse Trailers, Public Works, Military, and Septic Haulers.
Premium Cleaning Kit includes the following items:
1 – VW105; 5 Gallon Pail Vehicle Wash
1 – HF001; Hose End Foam Sprayer
1 – TB001; Telescoping Vehicle Brush
1 – TF132: 32oz Tire Finish
1 – SD132: 32oz Spray Detailer
1 – GC132: 32oz Glass Cleaner
1 – DE132: 32oz Degreaser
1 – MFT12: Micro-Fiber Detailing Towels (12pk)
1 – DPK1: Basic Diamond Plate Kit
Price: $347.00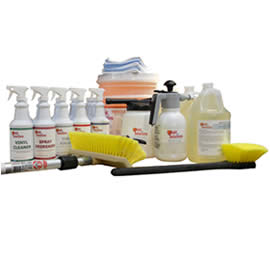 Product Sheets
Product Photos and Videos