Spray Detailer
This detailer offers a quick and easy way to add shine to vehicles. Product contains carnauba wax which provides extra surface protection. Very easy to use: Spray the product on and wipe off with a clean soft cloth.
Key Points
No "hazing", dries fast, Can be used repetitively, Leaves no residue on plastic surfaces, Works great for parades or expositions.
Product Usage Industries
Public Safety (Fire/Rescue, EMS, Law Enforcement, DNR), Utility Companies, Recreational Vehicles, Trucking, Towing, Horse Trailers, Public Works, Military, and Septic Haulers.
Spray Detailer is available in the following sizes:
• 32oz Bottle $10.95
• 4x32oz Bottle Case $35.75
• 1 Gallon $25.25
• 4X1 Gallon Case $87.50
• 5 Gallon Pail $98.50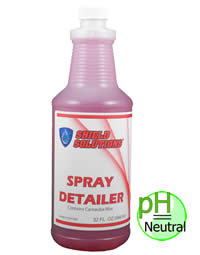 Product Sheets