Tire Finish
Product provides a like new look to vinyl, rubber and plastic. Matte finish will not remain sticky or wet. This long lasting formula will not attract dirt or road grime.
Key Points
Dries "tack" free, For use on multiple surfaces, Anti static, cleans and protects.
Product Usage Industries
Public Safety (Fire/Rescue, EMS, Law Enforcement, DNR), Utility Companies, Recreational Vehicles, Trucking, Towing, Horse Trailers, Public Works, Military, and Septic Haulers.
Tire Finish is available in the following sizes:
• 32oz Bottle $10.95
• 4x32oz Bottle Case $35.75
• 1 Gallon $26.25
• 4X1 Gallon Case $87.50
• 5 Gallon Pail $98.50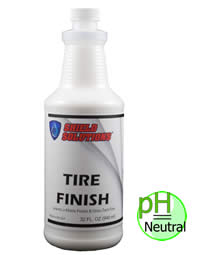 Product Sheets