Waterless Vehicle Cleaning Wash
This pH neutral cleaner is a truly effective solution to spot cleaning or full apparatus washing in areas of water restrictions. Our Waterless Vehicle Wash has been carefully designed to be more than just a great cleaner; it is also safe for all components on your vehicle. Easy to use: just spray on and wipe off.
Key Points
Neutral pH (6.5-7.5), Perfect option for areas of Water Restrictions, Great for Spot Cleaning, Does not leave a Film, Easy to use: Spray On, Wipe Off, Friendly to the User and Environment, Cost Effective, Safe for all Vehicle Surfaces.
Product Usage Industries
Public Safety (Fire/Rescue, EMS, Law Enforcement, DNR), Utility Companies, Recreational Vehicles, Trucking, Towing, Horse Trailers, Public Works, Military, and Septic Haulers.
Waterless Vehicle Wash is available in the following sizes:
• 32oz Bottle $10.95
• 4x32oz Bottle Case $39.50
• 1 Gallon $22.95
• 4X1 Gallon Case $77.50
• 5 Gallon Pail $87.50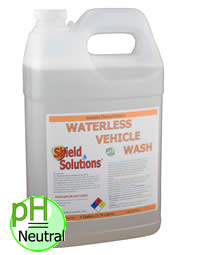 Product Sheets