Apparatus Wax
Advanced technology provides easy glide on application with a resistance free wipe off. Produces a noticeably mirror like finish. This wax eliminates fine scratches and is safe for all paints.
Key Points
Long lasting shine and protection, does not leave a powdery residue and liquid wax is easy to apply and remove.
Product Usage Industries
Public Safety (Fire/Rescue, EMS, Law Enforcement, DNR), Utility Companies, Recreational Vehicles, Trucking, Towing, Horse Trailers, Public Works, Military, and Septic Haulers.
Apparatus Wax is available in the following sizes:
• 32oz Bottle $19.75
• 4x32oz Bottle Case $70.25
• 1 Gallon $60.75
• 4X1 Gallon Case $220.00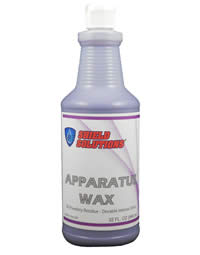 Product Sheets