Spray Degreaser
This product is a multi-purpose, multi surface heavy duty cleaner and degreaser. Product can be used in the garage as well as the kitchen. Developed to cut heavy grease, oil and grime on surfaces and equipment with minimal scrubbing.
Key Points
Multi-purpose hard surface cleaner, Removes hard to clean grease and grime, Cleaner can be diluted for "delicate" jobs.
Product Usage Industries
Public Safety (Fire/Rescue, EMS, Law Enforcement, DNR), Utility Companies, Recreational Vehicles, Trucking, Towing, Horse Trailers, Public Works, Military, and Septic Haulers.
Spray Degreaser is available in the following sizes:
• 32oz Bottle $10.95
• 4x32oz Bottle Case $35.75
• 1 Gallon $26.25
• 4X1 Gallon Case $87.50
• 5 Gallon Pail $98.50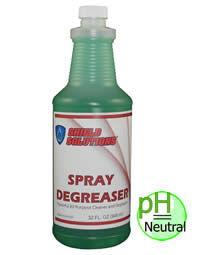 Product Sheets